Food Tour Bled
Get a taste of traditional Slovenian cuisine as we take you on a walking tour of Bled, and learn about the town's history and local culture.
Discover traditional local food and authentic Slovenian restaurants
Taste local wines from many undiscovered regions
Learn about Slovenian traditions, rich cultural heritage and broad cuisine
Eat like a local in the company of a local
Enjoy the famous Bled dessert in a breathtaking setting
Meet and share experiences with other foodie travellers
A food trip around lake Bled
In the best company of people, food & wine
Sightseeing included!
Visiting many Bled restaurants
You'll also visit a 100-year-old wine cellar
An excellent opportunity to get a taste of Slovenian cuisine
Discovering food gems in Bled
Enjoying traditional dishes with a view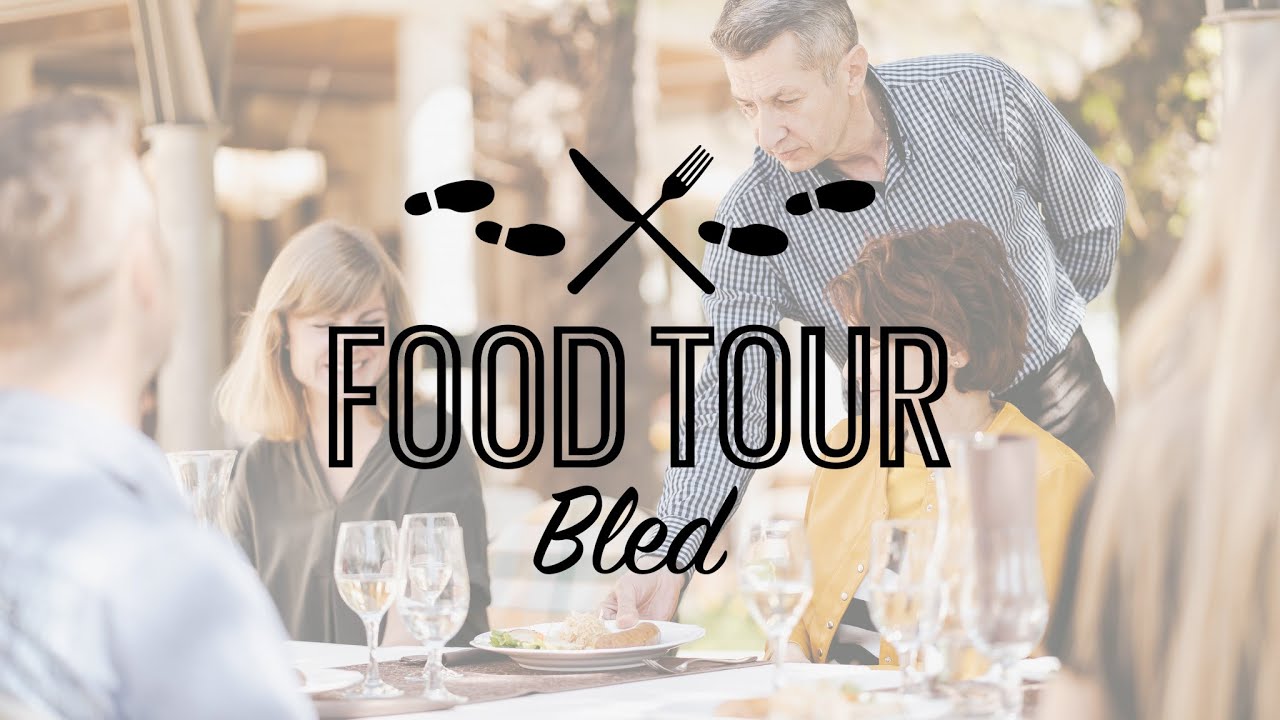 Included in price
5 delicious tastings
3 Slovenian wines
Experienced and fun-to-be-with guide
Countless stories behind the food
Extra
3 extra wine samples
Private experience
Other information
Sign up is required to reserve your spot.
The tour is conducted in English.
Contact us for private groups.
Get a taste of traditional Slovenian cuisine with this guided tour through Bled restaurants.
Amusing, educational and above all tasty tour of Bled. Discover the best local food, delicious wines from various regions, learn about Slovenian traditions and explore the town's rich cultural heritage.
A great way to put your taste buds on a rollercoaster ride, as well as getting acquainted with main attractions and other foodie travellers from around the world.
Interesting facts
Make sure you try the local cheese and stews, Carniolan sausage, Štruklji, and pot-fried potato, accompanied by a glass of wine or local craft beer.
Bled Castle is one of the oldest castles in Slovenia (from around 1000 a.c.).
Bled first got its fame as a wellness hotspot, because of Arnold Rikli, a renowned Swiss doctor working here from 1855. His healing method was based on light-air, sund and water baths, diet and living in nature.
The Gorenjska region is also known as the home of "Kranjska čebela" (eng. Carniolan honey-bee).
Location
Address:
Cesta svobode 4, 4260 Bled
Link to Google Maps
There is not many tours around Bled, except for classic walking. So I am glad we took the food tour in Bled, because it is actually walking tour with all the sights info, upgraded with good food and wine. We thought it was a bit pricey, but at the end we were very well fed and enjoyed the exclusive dessert with the best view.
Great tour! Maja was a terrific food tour guide in Bled with so much local knowledge and history info about everything along the way. We had amazing food on the tour and she also showed us other fun things to do during our stay. We loved everything we ate on the tour and we bought delicious pumpkin seed oil and other stuff at the places along the way.
Frequently Asked Questions
Our foodie tour includes 5 delicious tastings and 3 Slovenian wines. Among them, Istrian prosciutto and Slovenian cheese, Carnolian sausage, olive and pumpkin oil, dumplings "Idrijski žlikrofi", a brilliant dessert "Blejska rezina" and other tastings, but we really don't want to give it all away. 😉
We will be sampling food and wine at different locations along the way, some samples of food offer just a few bites, others a larger portion. Throughout the whole course of Food Tour Bled, you will eat enough food that would equal a single meal.
As we walk from location to location to sample the food and wine, we will take enough breaks for architectural, cultural and historical insights of the city. 
It all depends on your needs. We do our best to accommodate special dietary needs of our guests, however, we cannot guarantee you will be able to get all the tastings and experience the Food Tour to the fullest.  Please provide us with your allergies/needs/preferences with the booking form and we will reply with our suggestions. In case you have life-threatening allergies or health conditions, it is not recommended to take the tour.
Our Food Tour gladly accommodates vegetarians, just please don't forget to state your preferences with the booking. We also do our best to accommodate vegans, however we cannot guarantee you will be able to get all the tastings and experience the Food Tour to the fullest. Please provide us with your preferences when submitting the booking form and we will let you know if we can accommodate you based on your information.
Our Food Tour in Bled takes place in any kind of weather and will not be canceled in case of rain. Please wear suitable clothing (raincoat, boots) and bring an umbrella if it's raining.
We will stop at some local shops for tasting and you will have plenty of time there to purchase the desired items. Just please keep in mind that we need to stay on schedule for the food tastings that follow, so our guide will give you a warning as to when we are leaving for the next tasting location, and you can finish your shopping in time.
Tipping is not customary in Slovenia, therefore not required on the tour. However, if you had a great time, gratuities are gladly accepted by our tour guides. 🙂
Expert Local Guides
Our professional guides know the best places, are great to be around and will go that extra mile for you.
100% Made in Slovenia
Based in Slovenia, we are working closely with local suppliers to provide you with a unique experience at the best possible price.
Trusted by Many
We have been operating since 2014 and with thousands of satisfied customers in the past, we still put you first.
Unbeatable Support
Our 24/7 customer support is where we show our passion by making your well-being our number one priority.